Cristina Surdu in our Milan Flagship Store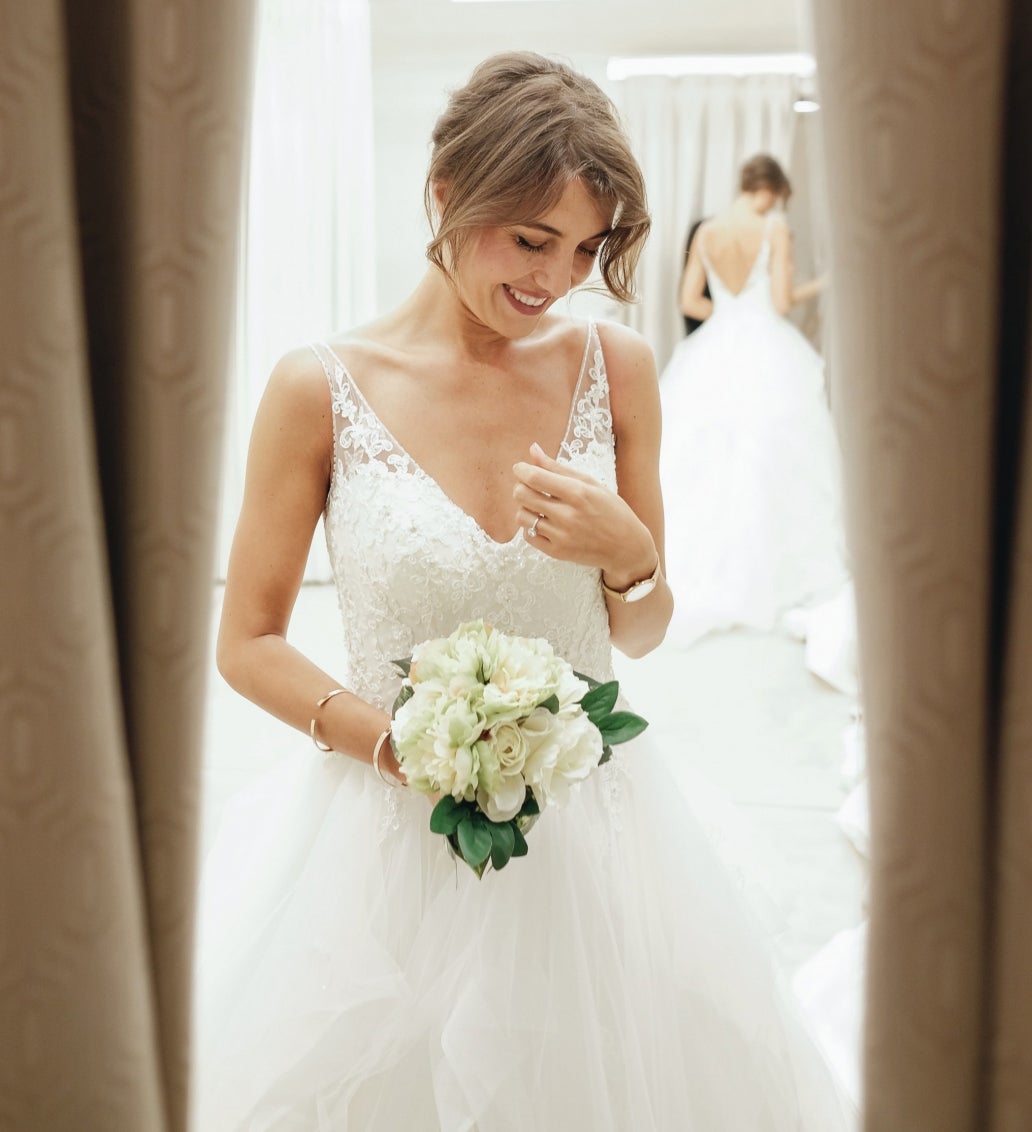 Guess what? Last Wednesday, June 13th, Cristina Surdu, a famous Italian based Instagram influencer with a romantic and elegant style, came to our atelier (@cristinasurdu)
A sweet and nice bride to be, with particular and refined preferences. We succeded in stealing her heart: here below she will tell you about her day with us and some useful advice for you, brides to be, who look for your dream dress!
From Cristina Surdu blog "After choosing the location, photographer, and florist, the most awaited moment has come: my dress choice. It has been a unique experience and I wanted to remind and show you that moment.
During that day, I was like in a dream. I chose the Nicole Spose atelier for my wedding dress choice. Its slogan says "NICOLE steals your heart", and it is true. Every dress I put on, I felt immediately in love… and you said this on Instagram too: one was more beautiful than the other. They took care of me from my arrival, during the fitting, and up to my departure. I've never met girls so good at their jobs. They made me feel at ease, and this is very important for me. They made me try on some dresses and they understood immediately what I wanted.
The most important thing is that I had some fun and got relaxed, because, I swear you, it was a beautiful place and I felt at home. For this reason, I would like to thank all Nicole Spose staff. I could really stay here telling you about the kindness of these girls and the beauty of their dresses.
The dress choice is a very beautiful thing, but sometimes it can be stressful too, so I decided to give you some advice about what you are supposed to do when you will choose your dress. I was lucky, because I had good time at Nicole Spose and it is hard to find your dress among all those wonderful ones.
1. CHOOSE CAREFULLY THE DESIGNER/ ATELIER
I often heard about Nicole Spose, because it is one of the most important and beautiful company in Italy. I've seen their dresses in many TV programmes, on Instagram, and it was love at first sight. The designer Alessandra Rinaudo creates real masterpieces for us, brides to be. You can see her creations in her Instagram profile @alessandrarinaudo too. As I said before, it is very important feeling at home in the atelier, because, if you are relaxed, without pressures, the dress choice will be easier and funnier!
2. DO NOT BRING THE WHOLE FAMILY WITH YOU
girls, I know you want your friends approval, mum, mother-in-law, grandmother,etc… but you do not have to bring all these people. First of all, it can be confusing and you can be stressed. Then, we know that everyone has different preferences and in this way you will have ten different opinions and you will feel lost. I came with my mum and it was really exciting. I look forward to showing you the picture of my mum who moved to tears when I chose the dress. When I think about that moment, I moved to tears too.
3. DO NOT PUT ON EACH DRESS OF THE ATELIER
when you find all these beautiful dresses, it is hard to choose and you would like to try on everything. The more you try on them, the more you get confused. Sometimes, if you tried on ten dresses but nobody has moved you, you should get back another time, or change the atelier. I tried on two dresses and I would have stopped, because I was moved during the fitting of the second one. I was curious and I tried on other dresses, but I always compared them to the second one; so, I realized THAT was my dress.
4. PUT ON SOMETHING DIFFERENT
if you have tried on a dress you have ever dreamed of but it has not moved you, choose something different. Before coming to NICOLE SPOSE, I have seen this dress enriched by flowers [LARA, of the Alessandra Rinaudo Couture 2018 Collection] and I thought it was mine; but, when I tried it on, it have not touched me. Yes, it is wonderful and even now I tell you I would have liked to put it on during my big day, but, unfortunately, it has not moved me.
Believe me, the dress choice is all a matter of "butterflies" :) These are my advice and, if you are looking for your wedding dress, I suggest you to take them and go to "NICOLE SPOSE" atelier!"