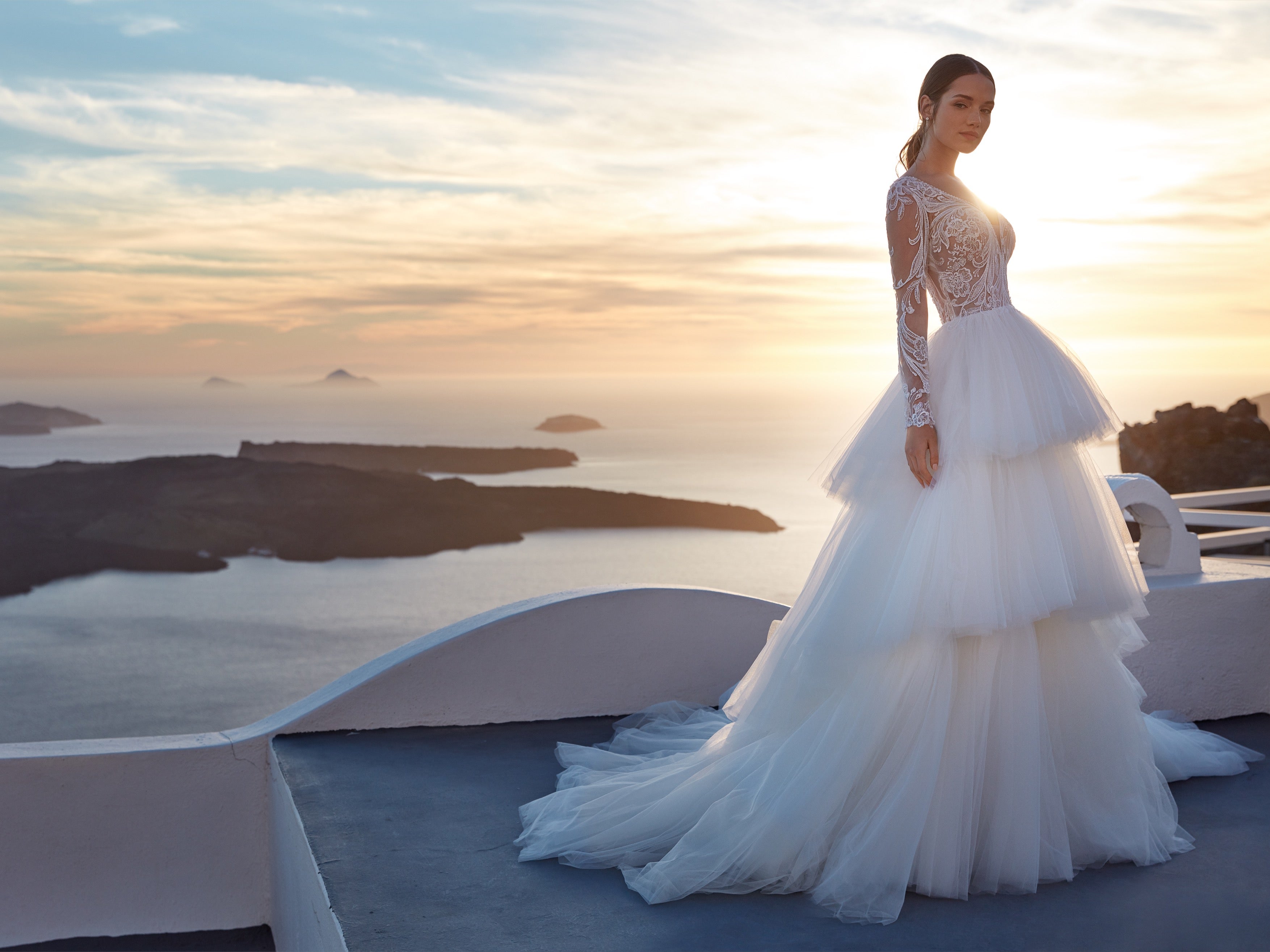 The Nicole Milano Quick Guide To Finding The Perfect Wedding Dress
So many beautiful wedding dresses – but which one is right for you?
Choosing your perfect wedding dress is one of the most important decisions of your life. And like all decisions, there are various factors to consider.
Here are some handy tips on what to look for in your dream dress.
The Wedding Dress Silhouette
When it comes to finding the perfect wedding dress, it all starts with the silhouette.
Wedding dress silhouettes generally fall into a handful of categories, and each one is suited to a particular body type.
The A-line is the most popular wedding dress silhouette. Its iconic form suits most body types, as it falls gently over the hips and has a fitted bodice that accentuates the upper body and décolleté. Sometimes called a 'princess wedding dress silhouette,' they also tend to be most romantic in style.
For a more sensual, red carpet look, the mermaid silhouette is also a perennial favorite. Gently fitted over the upper body and hips, it flares out into a 'fishtail' skirt at the knees or thighs, showing off your precious curves.
The trend for more relaxed wedding dress looks has led to the rise of the sheath wedding dress silhouette. With a looser fit than the mermaid, they can look incredibly elegant on tall, leggy brides.
The Wedding Dress Waistline
It's probably the thing brides stress about the most – how to accentuate their waistline on their wedding day.
Waistlines are difficult at the best of times, but bridal designers have a few tricks up their sleeves to make the most of your figure.
The most effective one is to look for a 'degrade' effect over the hips and waist. This means that the lace or embroidery of the bodice has been gently extended over the waistline and sometimes the to the hips, unifying the bodice and skirt and creating an elongated look.
Other waist-slimming details to look for include a V-waistline wedding dress, or a wide, sash-like waistline with a back bow.
The Wedding Dress Neckline
With all eyes (and cameras) on the bride, enhancing your décolleté to the max is absolutely essential on your wedding day.
Sweetheart neckline wedding dresses are an incredibly popular choice. Not only to they scream romance, they are also extremely flattering for brides with a generous bust. If you fall into this category, look for a style with in-built cups, as many sweetheart neckline-wedding dresses are strapless.
With the trend of the 'Bridgerton' look sweeping fashion, square neckline wedding dresses are also a great choice for busty brides, as they frame the décolleté beautifully. Plunge neckline wedding dresses are spectacular, but are probably best left to brides who are less curvy. Again, in-built cups or shapewear in the same color as your skin-tone are key to a faultless wedding dress neckline.
The Wedding Dress Fabric
Next to the silhouette, the fabric of wedding dresses is the most determining factor to its overall look and feel. Tulle wedding dresses narrate fantasy, lace is utterly romantic and mikado or duchesse fabrics lend a sense of iconic formality.
Wedding dress fabrics have practical considerations too. If you are planning a destination wedding, you won't want a fabric that easily creases. Beach weddings can be windy, so choose a fabric that is not going to bellow up over your knees in a sudden gust. Watch out for transparencies in outdoor weddings, and think about the reception too, as bulky fabrics can be annoying on the dance floor.
The trend for less formal and intimate weddings has led designers to innovate with new textiles. Sensual crepe, slinky satin and even soft natural cotton create fresh, contemporary and lightweight looks for modern brides.