NICOLE BRIDAL PARTY with Nicole Cavallo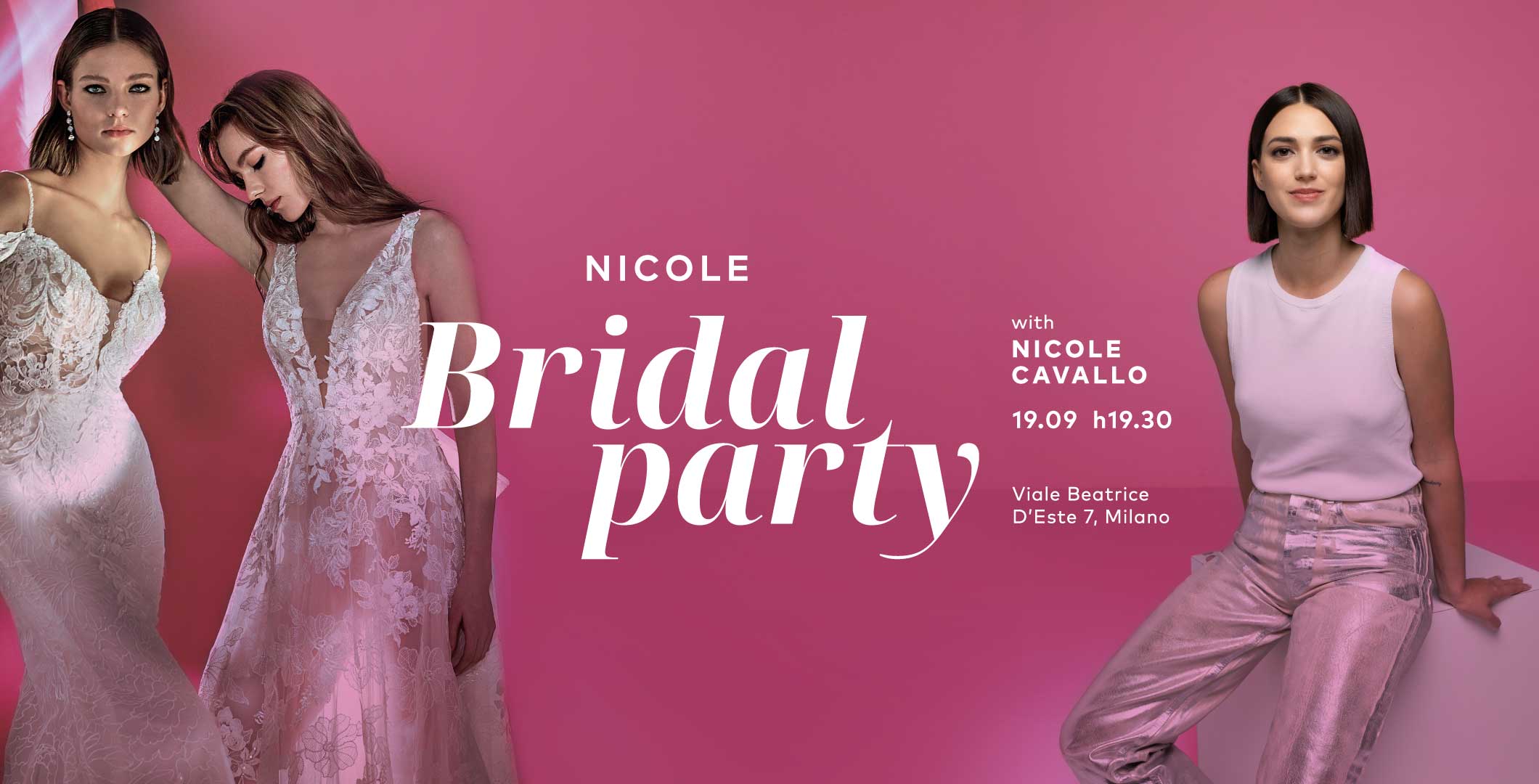 NICOLE BRIDAL PARTY
Partecipa all'esclusivo Bridal Party di Nicole Milano. Un momento magico insieme a Nicole Cavallo!

In occasione della Milano Fashion Week potrai scoprire in esclusiva Infinite Beauty - Nicole Couture - la nuova collezione 2024 ispirata alla bellezza della natura

Dalle ore 17:00 alle ore 19.00
VIVI IL SOGNO: EXCLUSIVE NICOLE EXPERIENCE
Le prime 30 ragazze ad iscriversi avranno la possibilità di entrare in atelier a porte chiuse e provare alcuni modelli a scelta per vivere il sogno Nicole
Durante l'esperienza ti aspettano sorprese che renderanno ogni secondo indimenticabile!
Ore 19.30
inizio del Bridal Party
Atelier Nicole Milano Viale Beatrice d'Este 7, Milano
Mettiti in Sposa
Il momento della scelta dell'abito da sposa è magico, un insieme di emozioni indescrivibili.

Immortalalo! Scatta una foto con indosso l'abito da sposa per renderlo tuo per sempre.
Potresti vincere il tuo abito dei sogni e un fantastico viaggio di nozze in Madagascar!
Come funziona?

Racconta la magia della scelta dell'abito: scatta una foto presso un Atelier Nicole Milano o un rivenditore autorizzato, caricala su YOUANDSUN.IT e descrivi la trepidazione del momento per convincerci a scegliere te come vincitrice.
Ricordati di condividere la foto sui tuoi profili social, usando l'hashtag #MettitiInSposa, per aumentare la possibilità di farti votare e tagga i profili ufficiali @turisanda1924 @nicolemilanoofficial così da permetterci di ripubblicare il tuo scatto!

I tuoi amici e parenti dovranno essere registrati al programma You and Sun per poter esprimere il loro voto.
Solo i contributi che avranno ricevuto almeno 50 voti verranno presi in esame da una Giuria tecnica costituita dai Responsabili Marketing e Comunicazione di Alpitour e Nicole Milano. A suo insindacabile giudizio, la suddetta Giuria si riserverà di selezionare la foto vincitrice, quella che brilla per creatività, originalità e simpatia.
La vincitrice riceverà in premio un abito Nicole Milano a sua scelta, e un viaggio di nozze per 2 persone firmato Turisanda su un'isola privata, al largo della costa nord del Madagascar.
Ad attenderti mare turchese e cristallino, spiagge color avorio e una barriera corallina di una bellezza infinita. Un'isola incontaminata che ospita un resort dall'atmosfera rilassata, intima, chic. Constance Tsarabanjina è l'unica struttura presente sull'isola: solo 25 Beach Villa immerse in una rigogliosa vegetazione tropicale e suddivise su due splendide spiagge, tutte indipendenti e costruite con materiali ecocompatibili. Un piccolo rifugio a cinque stelle, per sentirsi i padroni indisturbati di uno dei pezzi più belli di mondo.

Constance Tsarabanjina saprà rendere la tua luna di miele indimenticabile.
Partecipa al concorso e corona il tuo sogno. Hai tempo dal 19/09/2023 fino al 31/10/2023.

Cosa aspetti?
Per partecipare clicca il link qui sotto e segui le istruzioni You and sun!
SCOPRI LE NOSTRE CELEBRITÀ IN PRIMA FILA
Alla sfilata e all'afterparty hanno partecipato le più importanti influencer, come Dulceida, Mery Turiel, Madame de Rosa, Andrea Duro, Lidia Torrent, Elsa Anka, Lucia Rivera, Coral Simanovich e Macarena Gómez con il marito Aldo Comas, oltre alla giornalista Susanna Griso.
INFINITE BEAUTY - NUOVA COLLEZIONE NICOLE COUTURE 2024
Scopri in esclusiva Infinite Beauty - Nicole Couture - la nuova collezione 2024 ispirata alla bellezza della natura.
Ispirata dalla terra e dalle sue texture, la nuova collezione Nicole Couture 2024 riscopre il rapporto dell'uomo con la natura, creando una connessione perfetta tra l'infinito e il concreto. Preziosi abiti giocano con diverse profondità e ombre attraverso l'effetto di luci calde che ricordano il movimento della natura, combinato con l'estrema sofisticazione della ricerca sui materiali. Ciascun componente dell'abito rappresenta gli elementi naturali che ci circondano: i pizzi in 3D riproducono la materialità della terra e i dettagli dorati giocano con le luci, creando un effetto molto romantico tipico dell'identità del marchio.